Michael Jordan's professional baketball career spanned from 1984-2003. In those 19 years of domination, MJ proved himself to be the greatest player to ever step onto the hardwood. 6 championships, 5 NBA MVP awards, 14 NBA All-Star appearances, 6 time NBA Finals MVP...and the list goes on and on. No one could dream of creating such a player, but, a strange thing happened around the time Jordan was winning his third straight NBA title. The term "air apparent" was born. "Who will be the next Michael Jordan"? The masses were so in love with # 23, that they wanted another one...and not only that, they wanted to predict who it was going to be.
1993: Penny Hardaway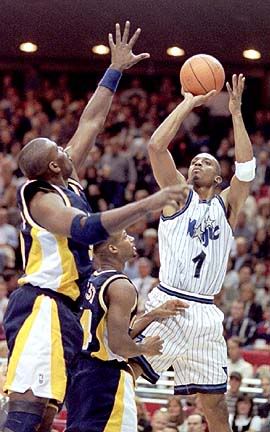 Penny was the first to actually be labeled the "Next Jordan" in his rookie season with the Orlando Magic. Hardaway and Shaquille O'Neal lead the Magic from the lottery to the NBA Finals during Jordan's 1st retirement. This only helped fan the flames of "Next Jordan" talk. Sadly, Penny never really met his potential as an NBA elite. After mediocre stints with the Phoenix Suns, New York Knicks and a brief reuniting with Shaquille O'Neal in Miami, Penny was ultimately set out to pasture.
1994: Grant Hill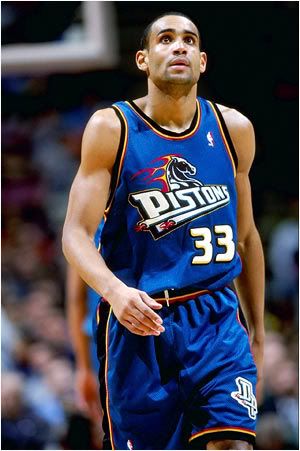 Next up, Grant Hill. Since Penny wasn't shaping up to be Mr. Jordan quickly enough, the media needed a new player to focus on. Hill, a 6'8" shooting guard/small forward from Duke, was pegged to be next NBA superstar to follow in Jordan's footsteps. Though Hill showed moments of brilliance early in his career, injuries certainly marred any and all forward progress towards him being "Jordan-esque".
1995: Jerry Stackhouse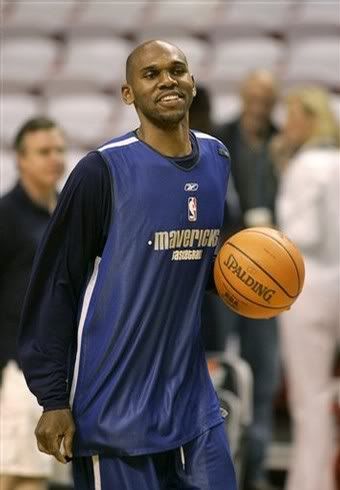 Jerry Stackhouse was the first to actually believe that he was the "Next Jordan". He and Jordan both played college ball at UNC, both were drafted #3 overall and both were 6'6". "Stack" had to be it, right? Wrong! Stackhouse challenged Jordan in their first head-to-head meeting. Jordan flat out embarassed Stackhouse, which quieted the "Next Jordan" talk shortly thereafter. Stackhouse is however unique on this list, given that he is the only one to ever play on the same team with Michael Jordan during their time on the Washington Wizards.
1996: Allen Iverson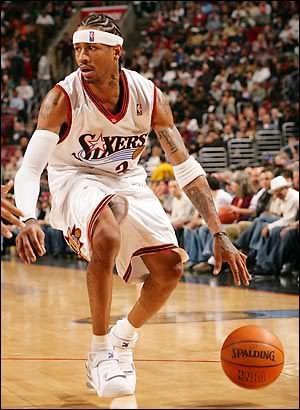 Probably the biggest stretch in the history of the phrase...a 6' 0" point guard? This is where the reaching for the "air apparent" really began. Iverson was a scoring machine with a tenacity and focus we had not seen since Jordan. However, this did not qualify him to be the "Next Jordan". Unlike Jerry Stackhouse, Iverson was successful in challenging Jordan in their first NBA game:
1996: Kobe Bryant
1996 was the first year that produced 2 players considered to be a possible Jordan successor. Kobe Bryant was a skinny, 17 yeard old, 6'6" shooting guard when was taken 13th overall in the '96 NBA Draft. Initially, Bryant played limited minutes, but as the season continued, he began to see some more playing time and the media began to see shades of "Jordan". More on Kobe later...
1997: Tracy McGrady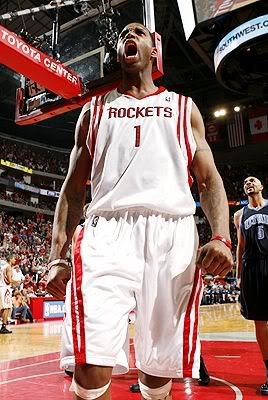 Another year, another "Jordan" comparison, this time in the form of Tracy McGrady. Since Kobe Bryant wouldn't begin to show his colors for about 3-4 years, people got anxious and the following year dubbed T-Mac the first: "the next, 'next Jordan'. At this point the term became so saturated that it became self-mocking and self-fulfilling. I don't believe that anyone ever really considered McGrady a possibility to be the "Next Jordan".
1998: Vince Carter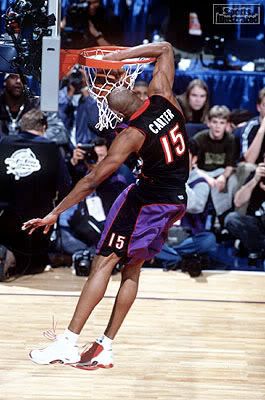 Our second Tar Heel to enter the lineage: Vince "Air Canada" Carter (only player on the list to share the nickname "Air" with Jordan). This one was almost too easy for branding the next, "Next Jordan". Vince went to UNC and could jump REALLY, really HIGH. He won the dunk contest with an emphatic display of leaping ability (much like Jordan). Why wouldn't he be the "Next Jordan" one might ask? The easy answer: Carter has never displayed the ability to score at will, win big games or lead a team...all qualities that made Jordan "Jordan".
2003: LeBron James
By 1999, the "Next Jordan" drought began and did not end for nearly five years. "King" James surfaced in the land that Jordan helped to destroy: Cleveland. LeBron looks and plays as though he was created in a lab: 60% Dominique Wilkins DNA/40% Michael Jordan DNA. An interesting note of Lebron being the next "Next Jordan" is that he is the first in this list to actually wear the same jersey number as Jordan, thus making it even easier to tag him with title. LeBron James garnered many accolades, but very few of them pointed to him being the "Next Jordan"...
The reason: Kobe Bryant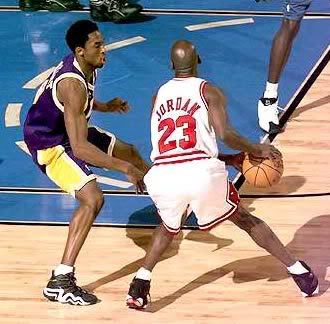 The NBA has yet to see its' next player to be pegged as the next, "Next Jordan". Kobe has proven that no one will get any closer to the real thing than he has. Winning 3 straight titles with the Lakers, all while becoming the best player in the league has proved be the "knighting" of Kobe Bryant as the true "air apparent" to Michael Jordan. Maybe the change he made in his jersey number (from 8 to 24) is his sign of self-awareness?
Note:
Harold Miner*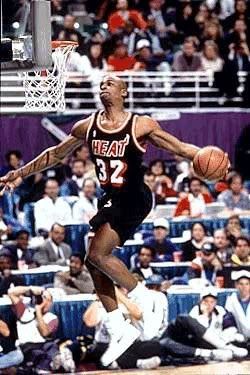 *Miner, who was nicknamed "Baby Jordan" for his dunking ability, was never actually labeled/considered the "Next Jordan". Thus the reason for his absence on this list.